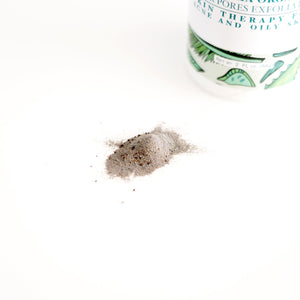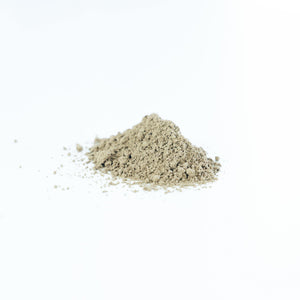 Plant-Based
Clear Pore Exfoliator
Are you battling blackheads or acne? This powerful micro-exfoliator will clear up that complexion by unclogging your pores with a fine blend of pulverized walnut shell, bentonite clay, and Himalayan sea salt.
Excessive oils and buildup on the skin can be a breeding ground for bacteria. This exfoliator is formulated with Himalayan sea salt to banish bacteria while pulling excess oils with bentonite clay.
This combination of finely blended ingredients adds to our growing line of products that are actually edible! With walnut shell, coffee, nutritional yeast, Himalayan sea salt, and bentonite clay, this amazing face scrub can also be used as a weekly mask for those with acne or oily complexion. 
Directions for use:  When using as a face scrub, first cleanse face with face soap then rinse well; then lather face a second time and sprinkle a dime size of the Daily Face Scrub onto wet hand and rub the scrub onto index and middle fingers then apply onto lathered face and gently massage scrub and face soap into the skin and pores.  Be sure to rub well into the T-Zone area, then rinse well and dry your face.
When using as an oily skin or acne mask: sprinkle a quarter-sized amount onto the palm and sparingly add water and mix to create a light and creamy paste, then apply the paste to T-zone first and continue spreading and applying to the rest of the face being careful to apply only around the eyes and not unto eyelids.  If possible lie down and leave the mask on for 10-15 minutes, then rinse well with warm water and dry your face.  For a fresh feel that isn't tight and dry after the mask, mist the face with one of our gentle face tonics.
Gluten-free, paraben-free, sulfate-free, phthalate-free




Free of synthetic fragrances and chemical




Gently lifts away impurities and dirt without stripping the skin of its essential moisture




Himalayan salt, a natural antimicrobial that also serves to soften the skin




Activated Charcoal attracts bacteria and dirt away from the skin

Bentonite Clay

 can help remove sebum (oil).



Ingredients:
 walnut shell
, activated charcoal,  nutritional yeast, Himalayan sea salt, and bentonite clay, sodium barcarbonate
walnut shell powder helps with skin issues like acne, eczema, blisters and even ringworm. It is also used to treat more serious skin problems such as psoriasis and canker sores. Walnut shell powder can also be used to treat skin conditions that occur as a result of fungal infection.

Bentonite Clay

 can help remove sebum, or oil, from the skin's surface, and it may also have a calming effect on inflamed breakouts. Using a clay face mask can help remove impurities from the skin to treat acne or reduce the risk of pimples and skin infections
Activated charcoal effectively cleanses the skin, unclogs pores, removes deeper impurities, and dead skin cells. The result is smooth, supple, and even-toned skin. Dirt, toxins, heavy metals, chemicals, and other poisons are attracted to the charcoal molecules and washed away.
---
Liquid error (templates/product line 47): Argument error in tag 'include' - Illegal template name