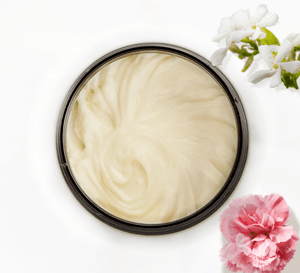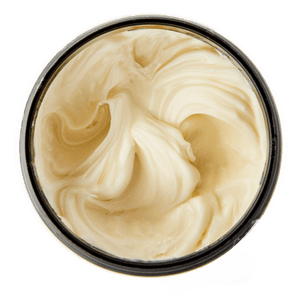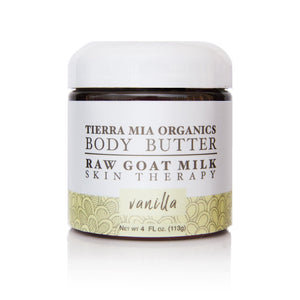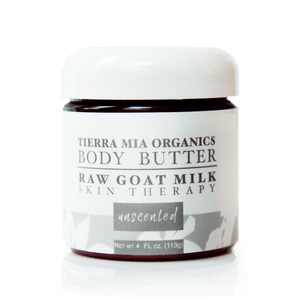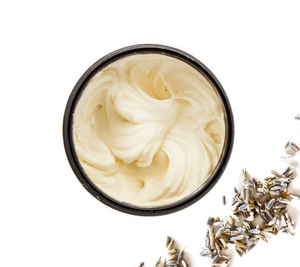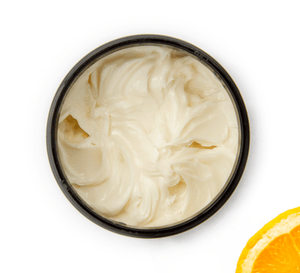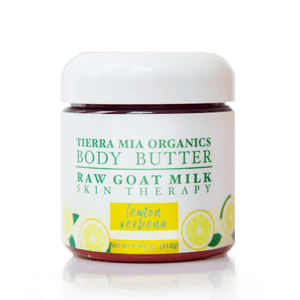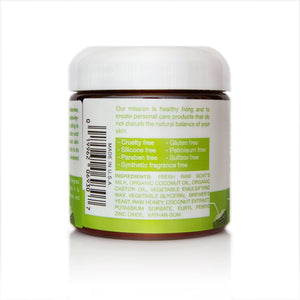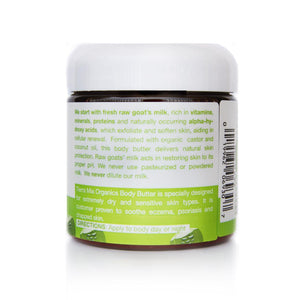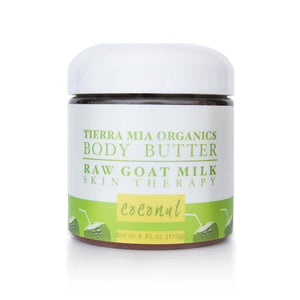 Goat Milk Body Butter 4oz
Our body butter boosts the skin's radiance and seals in moisture, all while softening the skin. Far thicker and denser than our body cream, this body butter penetrates your skin almost instantly. Its skin-quenching rich hydration is ideal for those who suffer from eczema, psoriasis, or several other dry skin conditions. It's loved by our male and female customers alike!  This body butter also serves as an excellent make-up remover.
We never use pasteurized or powdered milk, nor do we dilute our products with water. We start with fresh raw goat's milk, rich in vitamins, minerals, proteins, and naturally occurring alpha-hydroxy acids. 
An alternative choice to chemical filled products

Gluten-free, paraben-free, sulfate-free, phthalate-free

Free of 

s

ynthetic fragrances

Made with food grade oils

Great for dry elbows, arms and heels
---
CITRUS SCENT
INGREDIENTS: Fresh raw goat's milk, organic coconut oil, organic castor oil, vegetable emulsifying wax, vegetable glycerin, raw honey, brewer's yeast, essential oil of pink grapefruit and orange, zinc oxide, xanthan gum, potassium sorbate, and euxyl PE9010.

LAVENDER SCENT
INGREDIENTS: Fresh raw goat's milk, organic coconut oil, organic castor oil, vegetable emulsifying wax, vegetable glycerin, raw honey, brewer's yeast, essential oil of lavender, zinc oxide, xanthan gum, potassium sorbate, and euxyl PE9010.

COCONUT SCENT
INGREDIENTS: Fresh raw goat's milk, organic coconut oil, organic castor oil, vegetable emulsifying wax, vegetable glycerin, raw honey, brewer's yeast, coconut extract, zinc oxide, xanthan gum, potassium sorbate, and euxyl PE9010.

EMILY SCENT - Fresh raw goat's milk, organic coconut oil, organic castor oil, vegetable emulsifying wax, vegetable glycerin, raw honey, brewer's yeast, essential oils of lavender and patchouli, zinc oxide, xanthan gum, potassium sorbate, euxyl PE9010

 

Liquid error (templates/product line 47): Argument error in tag 'include' - Illegal template name