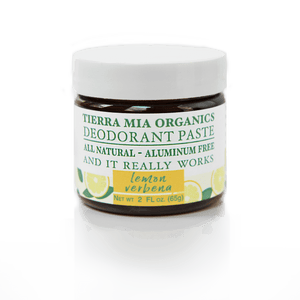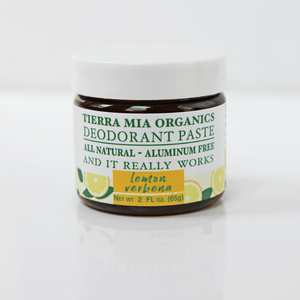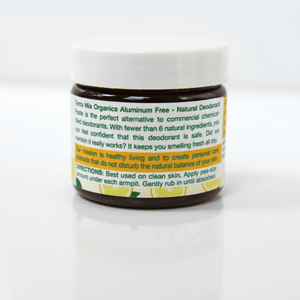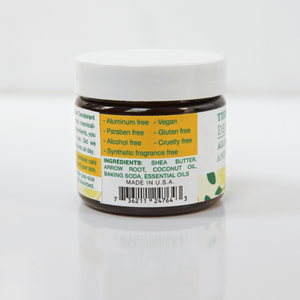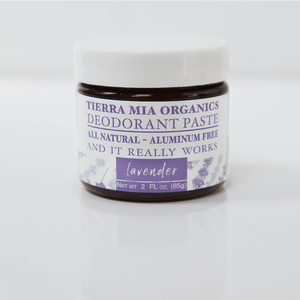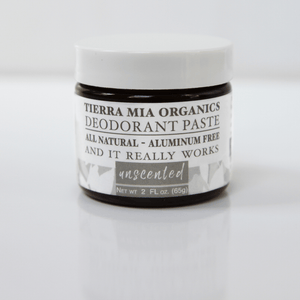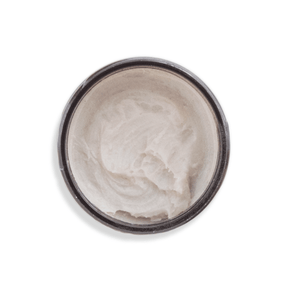 Deodorant Paste — All Natural and Aluminum Free
This gentle and natural deodorant is not to be mistaken for an anti-perspirant. It contains long lasting odor-fighting natural ingredients that really work, 
without artificial fragrance or preservatives. 
Our deodorant is aluminum-free and provides 24-hour odor protection with just 5 basic ingredients. It has a wax-like density with a powder-like finish. 
Armpits are home to sweat glands, creating two warm and tucked-away spots where bacteria like to thrive. This deodorant contains natural ingredients that are both acidic and salty, making the armpits a less desirable location for bacteria to grow. The active ingredient, baking soda, stops odor-causing bacteria from thriving. No bacteria means no unwanted body odor. It's that simple.
Gluten-free, paraben-free, sulfate-free, phthalate-free

Free of synthetic fragrances and chemicals

Cruelty free
Vegan
DIRECTIONS:
Best used on clean skin. Apply a pea-size amount under each armpit, and gently rub until absorbed
Do not leave in extreme heat or direct sunlight, as the paste can melt due to the natural coconut oil. If this happens you can give it a quick stir and pop it in your fridge to restore its consistency 


Do not add water to this product or dip a wet finger into the container 
this product has absolutely no preservative and water will introduce mold causing bacteria in the container.
In cold climates, one can rub a pea-sized amount within fingertips to warm and soften before applying
In hot climate or summer months, please refrigerate for 2 hours before opening as it liquefies in warm temperatures
Please Note:  DO NOT ADD WATER - THIS PRODUCT CONTAINS NO PRESERVATIVES AND HAS NO WATER - ADDING WATER WILL CAUSE IT TO GROW BACTERIA. 
Ingredients: Shea butter, arrow root, coconut oil, baking soda, essential oil of lemon verbena and lemongrass.
---
Liquid error (templates/product line 47): Argument error in tag 'include' - Illegal template name