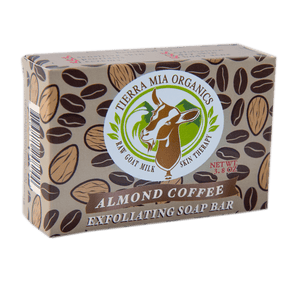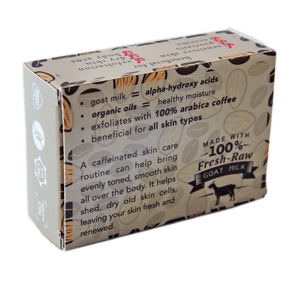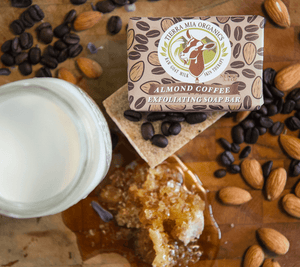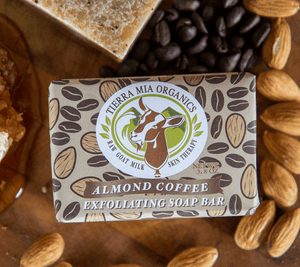 Almond Coffee Exfoliating Soap Bar
Almond Coffee is one of our customer's favorite body soap bars. It smells good enough to eat, though it's not recommended 😉 We added fresh ground organic arabica coffee beans to each batch of our almond coffee bar.
Made with fresh raw goat's milk and raw honey, this bar provides a great exfoliation. It removes dead skin cells and leaves your skin bright, fresh, and moisturized. It's invigorating! 
Tierra Mia Organics skin care products are
 made with real, fresh raw goat's milk rich in proteins and over 40 vitamins and minerals. Goat milk contains naturally occurring alpha-hydroxy acids which gently renew the skin, revealing natural radiant, and healthy skin with every use.
Made with organic arabica coffee beans for a natural skin exfoliant

Stimulates circulation

Gluten-free, paraben-free, sulfate-free, phthalate-free

Free of synthetic fragrances and chemicals

Made with food grade oils
Gently lifts away impurities, dirt, and oil without stripping skin of its essential moisture
---
Liquid error (templates/product line 47): Argument error in tag 'include' - Illegal template name