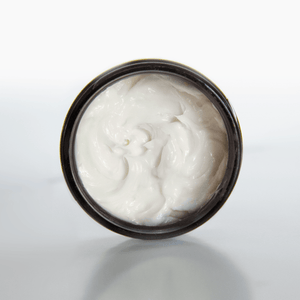 Nourishing Night Cream
More dense than our daily moisturizer, this night cream is an excellent choice for dryer skin during the day, and an excellent nutrient rich choice for night time skin care.  Our Nourishing Night Cream is an excellent primer cream before applying foundation makeup that results in a smooth flawless look that gets compliments every time!
Apply it in the morning under your foundation and/or apply it at night after cleansing your face. Nourishing Night Cream keeps you from getting fine lines common to dry skin. 
Mature skin needs, needs, needs, a moisture barrier to keep it from looking dry and aged! The alpha-hydroxy acids in the raw goat's milk is a gentle exfoliating acid that also nourishes your skin with needed proteins and vitamins. YOU WILL SEE THE DIFFERENCE after 7 days of using this cream. 
The goat's milk is key, along with the castor oil and and other key oils used in making this nutritious face cream. It's safe to apply around the eyes and should be applied along the neck and chest area as well. This formula is exceedingly dense and creamy, yet absorbs quickly into the skin to provide even more moisture. It restores skin, helps reduce fine lines, and evens out complexion.
Our customers love using this Face cream under their foundation as it allows for foundation makeup to be applied smoothly and evenly for more natural-looking skin!  Unlike other goat-milk products, Tierra Mia Organics is made with real fresh raw goat's milk and raw honey, both rich alpha-hydroxy acids, proteins, vitamins, and minerals. 
An excellent healthy alternative choice to chemical-filled products

Gentle enough for rosacea 
Ideal for normal-to-sensitive skin types
Helps clear up "hyper-pigmented" skin and age spots
Excellent in helping with fine lines

Gluten-free, paraben-free, sulfate-free, phthalate-free

Free of synthetic fragrances

Made with food grade oils and preservatives
Excellent Foundation Makeup Primer 
---
Please Note: We recommend those with extremely dry skin use our Nourishing Night Cream for their day time use as this will bring the additional moisture your skin type requires to look and feel its best!

Ingredients: Fresh raw goat's milk, organic coconut oil, organic castor oil, jojoba oil, evening primrose, vitamin E, vegetable emulsifying wax, brewer's yeast, raw honey, cetearyl alcohol, stearic acid, vegetable glycerin, hydrovance, zinc oxide, essential oils of bitter almond and grapefruit, potassium sorbate, and Euxyl pe9010.

Liquid error (templates/product line 47): Argument error in tag 'include' - Illegal template name