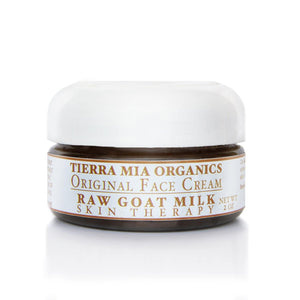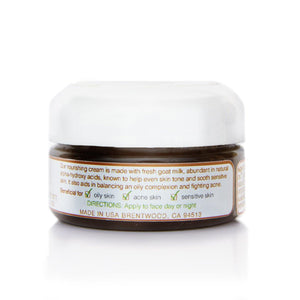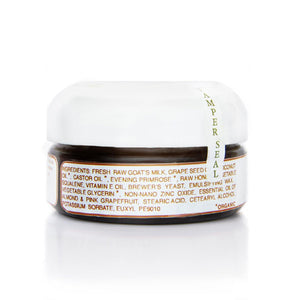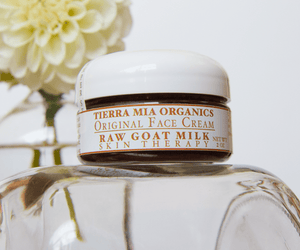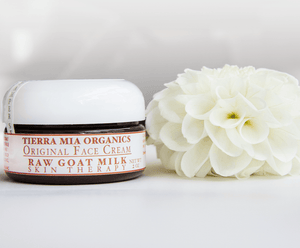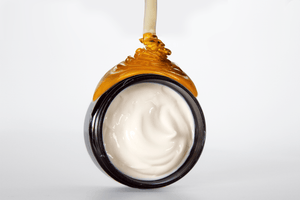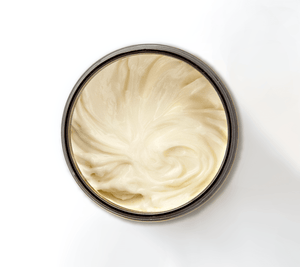 Original Face Cream
This nutrient-rich daily face moisturizer is ideal for all skin types, even those with sensitive or acne prone skin. Made with fresh raw goat's milk containing calcium, riboflavin, phosphorous, vitamin B-12, protein, and potassium, this day cream feeds your skin all the good stuff it needs to maintain balance, look radiant and be hydrated. The naturally occurring  alpha-hydroxy in this raw goats milk face cream will greatly help even skin tone and lighten pigmentation.
The secret to having beautiful skin is hidden in what you apply to it. Fresh goat's milk along, with natural and essential oils make this face cream a must have! Rapidly absorbing into the skin, it helps restore the skin's natural pH balance.
Tierra Mia Organics face creams are made with real fresh raw goat's milk and raw honey, which contain proteins, vitamins, minerals, and naturally occurring alpha-hydroxy acids. Read important notes below.
An alternative choice to chemical-filled products

Made with organic coconut oil

Made with Brewer's yeast, abundant in B Vitamins 

Ideal for normal-to-sensitive skin types

Made with zinc oxide to protect against ultraviolet light and sun damage

Evens out  "pigmented" skin

Gluten-free, paraben-free, sulfate-free, phthalate-free

Free of synthetic fragrances and chemicals

Made with food-grade oils and preservatives
Please note: Rich in naturally occurring lactic acids, this cream may cause a mild stinging sensation when applied to extremely sensitive skin. This sensation is temporary. It may last a few minutes and may occur over the first week of use. We recommend trying a pea-sized amount for the first few days until the stinging sensation subsides. Stinging and redness occur when the skin is very dry, which is not often seen with the naked eye. Dry skin develops microscopic cuts in the epidermis of the skin and Lactic acid in this nutrient-rich face cream aids skin cells in renewal. 
For those with extremely dry or mature skin we recommend our Extra Moisture Day Cream for day time use. It provides the additional moisture your skin type requires!
Ingredients: Fresh raw goat's milk, organic coconut oil, organic castor oil, jojoba oil, evening primrose, vitamin E, vegetable emulsifying wax, brewer's yeast, raw honey, cetearyl alcohol, stearic acid, vegetable glycerin, hydrovance, zinc oxide, essential oils of bitter almond and grapefruit, potassium sorbate, and Euxyl pe9010.
---
Liquid error (templates/product line 47): Argument error in tag 'include' - Illegal template name