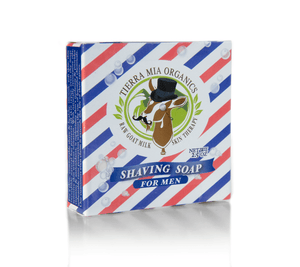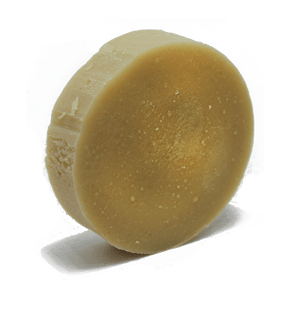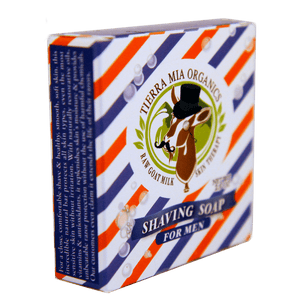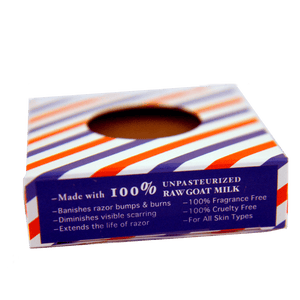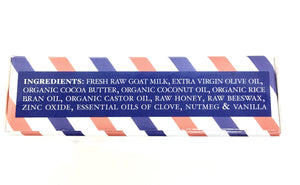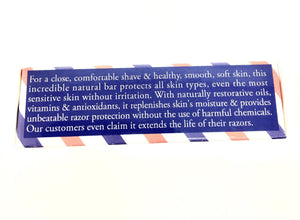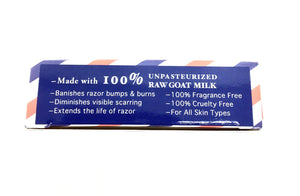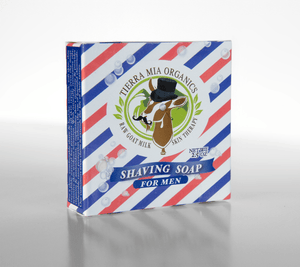 Men's Shave Soap Bar
With a raw honey scent, this soap provides a soothing full lather and a comfortable shave. It leaves the skin moisturized—never taut or dry. With a blend of coconut oil and cocoa butter, this shave soap provides a great smooth shave. Raw goat's milk gently exfoliates and renews the cells helping to prevent razor bumps. Many of our customers even claim it extends the life of their razor. Unlike many other goat milk products, Tierra Mia Organics is made with real fresh raw goat's milk and raw honey, rich in proteins, vitamins, and minerals.
How to use: Wet your shave brush thoroughly with hot water and tap to shake off excess water. Then rub brush in circular motion onto shave soap.   Then add a little more warm water and repeat the process of rubbing brush onto shave soap. Then apply the brush to your face and begin moving it in a circular motion to generate a rich lather. After shaving soap lather to your beard, set your brush aside while completing the first pass of your razor. Repeat the process a second time and then rinse shave brush thoroughly and set to dry. Rinse face with warm water and viola!  Nice clean and healthy shave experience. 
Prevents razor bumps

Rich in Vitamin A to help moisturize your skin

Protects against ultraviolet light and sun damage with natural zinc oxide

Gluten-free, paraben-free, sulfate-free, phthalate-free

Free of synthetic fragrances and chemicals

Made with food grade oils
Gently lifts away impurities, dirt, and oil without stripping skin of its essential moisture
---
Ingredients: Fresh raw goat's milk, organic coconut oil, organic cocoa butter, extra virgin olive oil, organic rice bran oil, raw honey and beeswax, essential oils of vanilla and clove, nutmeg, and zinc oxide.

Liquid error (templates/product line 47): Argument error in tag 'include' - Illegal template name