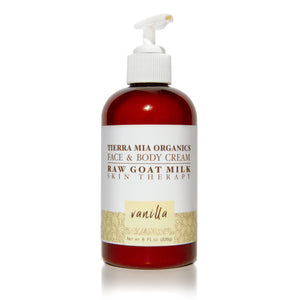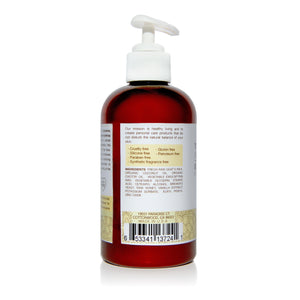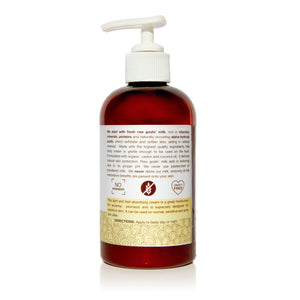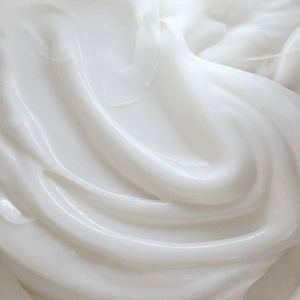 Vanilla Face and Body Cream
This lotion is more than your standard moisturizer. It's a natural skin renewal cream made with ingredients good enough to eat.  You may not believe it, but this vanilla face and body cream smells like fresh vanilla cake batter! Warning: people may want to lick you. It's scented with natural essential oils and nothing else.
We start with fresh raw goat's milk, rich in vitamins, minerals, proteins, and naturally occurring alpha-hydroxy acids, which exfoliate and soften skin, aiding in cellular renewal. Add the highest quality ingredients, this body cream is gentle enough to be used on the face. Formulated with organic castor and coconut oil,  it delivers natural skin protection. It won't sit on-top of the skin like some moisturizers made with synthetic emollients, instead, this cream absorbs into the skin, leaving it soft and healthy. Raw goat's milk aids in restoring skin to its proper pH. We never use pasteurized or powdered milk, nor do we dilute our milk, ensuring all the restorative benefits are passed onto your skin.
An alternative choice to chemical-filled products in soothing dry skin
Made with Brewer's yeast abundant in B vitamins
Beneficial for "pigmented" skin
Gluten-free, paraben-free, sulfate-free, phthalate-free
Free of synthetic fragrances
Made with food grade oils and preservatives
With less than 1% preservatives, to retain health benefits of raw goat milk and raw honey
Ingredients: Fresh raw goat's milk, organic coconut oil, organic castor oil, vegetable emulsifying wax, vegetable glycerin, stearic acid, cetearyl alcohol, brewer's yeast, raw honey, essential oils of vanilla, potassium sorbate,  Euxyl PE9010, and zinc oxide. 
---
Liquid error (templates/product line 47): Argument error in tag 'include' - Illegal template name