Winter Dry and Cracked Skin Blues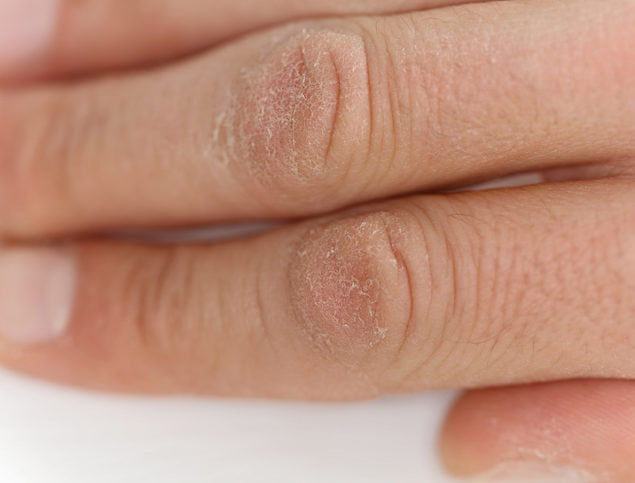 It's getting cold out there, and that means we're looking for every way possible to warm ourselves up! Sure, it may seem like taking a hot shower would be a good way to get toasty, but sadly, it isn't. Hot water dries out your skin by stripping it of its natural oils, which means you'll get temporary warmth at the cost of damaging your skin—and nobody wants that!
What else is bad for your skin?
Using the wrong soap can worsen itchy and dry skin. Store-bought commercial soap bars or body washes that contain surfactants and fragrances dry out your skin and cause itchiness
Using many of the popular body lotions on the market don't really help, as they contain too many chemicals that simply

 

mimic

 

natural oils, but leave your skin feeling dry. Because they have few to no healthy oils, they don't penetrate the skin to help add a healthy barrier against the dryer air
People with sensitive skin find little to no relief because their skin is too sensitive for commercial lotion on the market, meaning they end up feeling worse after using something they thought would help
So, what's the best way to take care of your skin during these frigid winter months? 
Start taking showers that are warm, not hot

After taking a not-too-hot shower, and towel drying gently, apply a thick moisturizer, like our Body Butter, on your entire body' even your face if you like!
Be sure to apply this a few minutes after bathing to seal the moisture into the skin. These body butters are an excellent way of adding a thick layer of protection for the skin against dry, cold air
Use a humidifier in your home and/or office, it will add moisture to dry winter air helping your skin stay hydrated throughout the day and night
Don't forget to give your hands a good moisturizing just before bed
We care about your skin health, and we want our customers to be covered this winter. That's why we're having a buy one get one 50% off sale from now until the end of November! Just add the items to your cart, and the discount will automatically be added at check out! This amazing discount is available for many of our products:
Take advantage of this deal now! We're only having it from now until the end of November, and as we all know, time flies!! We'll be waiting for your order, and can't wait to help keep your skin happy and moisturized all winter long.
---
Also in News
Your Skin needs a few key elements of nutrients to stay youthful always.